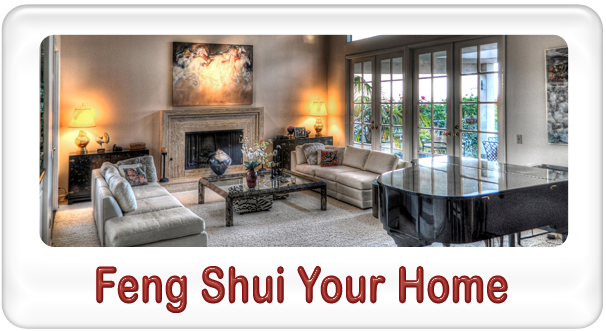 Feng Shui is the ancient Chinese art of placement, that teaches you "what to put where" so you can feel more relaxed, be more productive, and get along with others better. In other words, Feng Shui shows you how to produce environments where you can be happy, healthy, prosperous and free! As a Feng Shui Consultant for Homes, you don't just learn how to do this for yourself and your family, but you learn how to assist your clients in creating the lives of their dreams.

Improve your career, love, health, wealth, travel, spiritual life, fun, knowledge, and reputation, by creating spaces where you can thrive in all areas of life and realize your full potential as you take this course.

Learn Feng Shui with Clarity

Feng Shui is a great tool, however, many people who try to study Feng Shui on their own, find that the more they study, the more confused they get!

If you, like most people, have found yourself in a state of confusion when studying Feng Shui, you are not alone.
Many people find that the more they study Feng Shui on their own -- and some even after taking a class -- they feel more confused.
Fortunately, you have found the number one school for user-friendly Feng Shui, which can help you gain more clarity about it .
Say goodbye to the Feng Shui confusion!
A Unique Approach to Feng Shui

The Nine Steps to Feng Shui® System makes it easy to learn and apply Feng Shui. With this system you can practice Feng Shui by-the-numbers, in a hierarchical and synergistic order, by which every task you perform to improve the energy of your home has a lasting effect and contributes to the ease of any future tasks.
The Nine Steps to Feng Shui® System stays true to the original wisdom underlying Feng Shui, as one of the 5 branches of Traditional Chinese Medicine (the other 4 are Acupuncture, Herbalism, Qi-Gong, and Massage).
The Nine Steps to Feng Shui® System is based on 9 principles of ancient Chinese wisdom, each of which inspires a step in the system, small actions that have as a purpose making shifts in the way a person approaches life.
The system considers the Traditional Chinese Medicine notion that people are the connectors of Heaven and Earth. Heaven represents Thoughts; Humankind represents Emotions; and Earth represents Physical Actions. Every step addresses the mental, emotional, and physical aspects of change.

Nine Steps to Feng Shui®
THE NINE STEPS AND IN WHICH WEEK OF THE TRAINING YOU WILL LEARN THEM:

• Feng Shui and Traditional Chinese Philosophy (WEEK 1)
• Step 1: Complete the Floor Plan (WEEK 2)
• Step 2: Balance Extremes (WEEK 3)
• Step 3: Achieve a Proper Circulation of Chi (WEEKS 4, 5 & 6)
• Step 4: Tune In to Nature (WEEK 7)
• Step 5: Harmonize Colors, Shapes and Materials (WEEK 8)
• Step 6: Use the Right Symbols (WEEK 9)
• Step 7: Fix and Heal (WEEK 10)
• Step 8: Assign and Enhance the Life Areas (WEEK 11)
• Step 9: Use the Power Position in Furniture Placement (WEEK 12)
The online video course is designed to be taken in 12 weeks, devoting 1 hour per week to watch and study, but you get access to the course for 2 years.

The videos are short, and the whole course is computer and mobile device friendly, so you can make progress a little at a time, whenever you have a few minutes and an internet connection!
You can post questions and comments about each lesson under the video for each lesson, and Moni will answer them within 48 hours.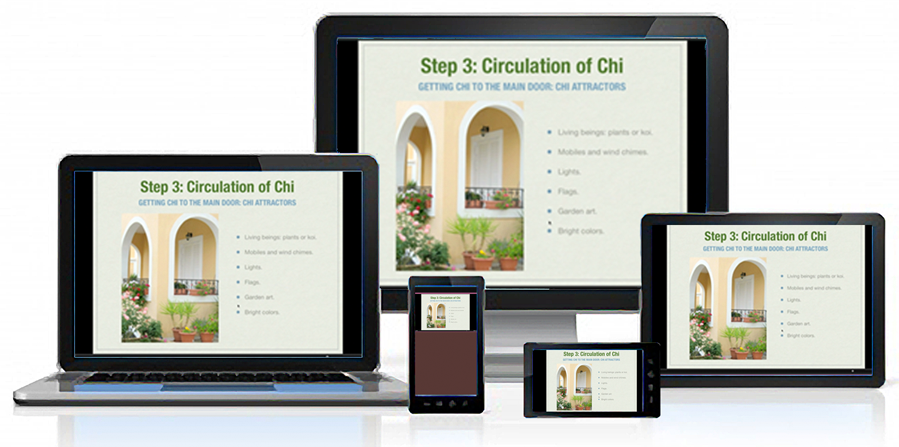 Below, you can see the Nine Steps to Feng Shui® listed, and underneath that, the Class Curriculum. I have provided a free preview of the first video in each of the 12 sections of the course. Make sure to watch them, so you can get an idea of the format and content of the videos. To view the full curriculum, please click the down arrow at the bottom of WEEK 2.

The Nine Steps to Feng Shui®