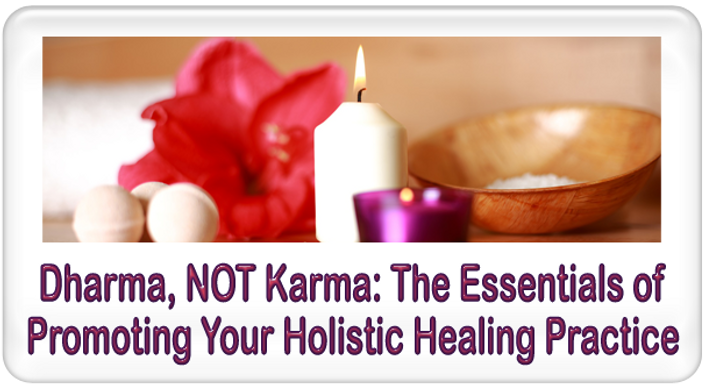 Dharma, NOT Karma: The Essentials of Promoting Your Holistic Healing Practice
Putting Ethics, Integrity and Spirituality into Marketing and Sales - Virtual PlayShop (not a workshop!)
Many healers, light workers, and holistic practitioners in general:
Want to let people know what they do and how they can help, but they struggle when it comes to marketing their services or products.


Feel that marketing and sales are sleazy, unethical, and manipulative.


They feel that they cannot be in integrity and promote their businesses at the same time.


Many have even trouble calling their practice a business!
These struggles hurt healers' and light workers' ability to effectively communicate with the people who most need their help.

They know that they need to get over their money issues and their blocks to promoting themselves in order to truly do what they came to do, and help all the people they want to help.


My name is Moni Castaneda and I have run a successful holistic Feng Shui business for almost 20 years.
Many of my clients are healers and light workers.
I have developed a program that can teach even the most spiritual people how to promote their holistic services and products while remaining in integrity.
If you are a holistic practitioner or a light worker, or own a holistic business, you know that what you do can help more people.
Those people are out there, looking for you, but until you build an energetic bridge between you and them, they won't be able to find you!
This energetic bridge between you and the people you could and ought to be helping requires:
That you clear your own misunderstandings about what money actually is, what it does, how it gets dirty, and how you can clear it as it passes through your business.


That you raise your "earning ceiling." To help more people you need to get more clients. Getting more clients means more money, but if you have unconscious caps as to how much money you will allow yourself to make in a year, you will keep repelling new clients.


That you learn how to price your services and products fairly. When you undercharge for what you do or what you offer, you are forcing clients to enter into an unequal & unethical exchange. People who are in integrity avoid making deals with folks who undercharge for their products and services. (If you have been attracting clients who want to take advantage of you, your prices may be too low.)
Today, there are many coaches that:
Offer to teach you to sell or market in a way that is not manipulative, but their own sales pitch is manipulative.


Tell you that they will teach you how to sell without being pushy, but they are pushy themselves when they try to sell their courses to you.


Suggest that you clear your issues around money, but ignore that money itself has issues that need to be cleared, and are hard for healers and light workers to deal with!
Marketing is Communication


Like anything, marketing can be used for good or evil.


Marketing itself simply means the ability to put your services and products in front of the people who would benefit from them.


People only purchase products or services that they can understand. Until you learn how to communicate the extraordinary things you do in terms that ordinary people can understand, you will limit yourself to a very small pool of clients.
Consider this:
Referrals are great but you need to teach your clients how to refer (how to describe you and what you do).

Even after a direct referral, most people will look up your website and Facebook page before they contact you.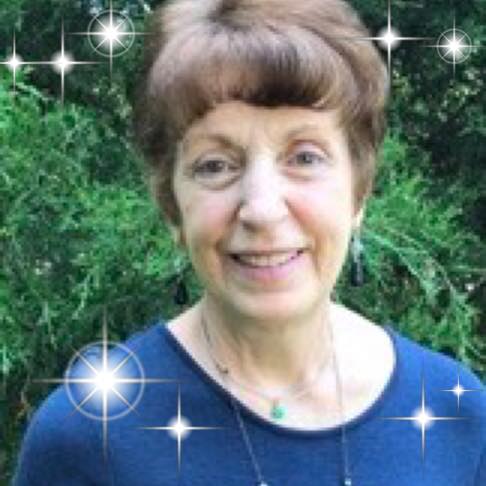 Thank You, Moni Castaneda! What a practical playful learning experience was taking your Dharma NOT Karma PlayShop. You are a very intuitive, inspirational, gifted teacher & presenter.
I was confused about niche market. I did not realize you aim for the ones most likely to connect then they become your marketers. I also thought we had to name them in our marketing material. That sounded like a dating site Intro: I am looking for females professionals, 40-60....
I am clearer about who I am & what I am here to do with key information to introduce myself.... So, this morning I began changing my headline on LinkedIn.... Of course I will end up play around with wording until I get it right yet know what I wish to communicate now.
- BarbaraRose, Owner, Rose Wellness Network
Your Instructor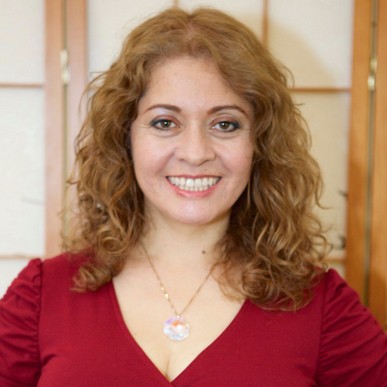 Feng Shui for Business and Holistic Marketing Maven
Moni helps her clients promote their business in ethical ways by using true and tried Feng Shui for Business methods and state of the art marketing techniques, which she has modified for spiritual integrity.
Course Curriculum
Introduction to Dharma NOT Karma
Available in days
days after you enroll
Who Are You as a Healer or Lightworker, and Who Did You Come to Help?
Available in days
days after you enroll
Discovering Who Are the People You Came to Help
Available in days
days after you enroll
Frequently Asked Questions
When does the course start and finish?
The course starts a soon as you enroll and you can take it at your own pace. It never expires.
What if I have no idea how to sell?
Marketing and sales are not gifts that some people have and others don't. They are skills that can be taught and learned, just like any other skill. This course, however, provides methods and techniques that are not available in any other program. This program utilizes energetic and spiritual tools that have never been shared before in a group program like this one.
What if I am an introvert, and have had no success networking or finding clients?
We will teach you how to network in a way that suits your personality and your nature, even if you do not join any networking groups or ever pay networking fees.
You have a sense of PURPOSE.


You want to express your full POTENTIAL.


BUT if you don't do it from a place of PLAY, you won't be able to overcome fears of success! This is why we are inviting you to this PLAYSHOP (not a workshop!)
In this program I will take you on a path of discovery:

Module 1: First Things First
Module 1 will help you accept your unique gifts and accept your identity as healer/light worker, without arrogance, but from a place of humility and power.
Module 2: Marketing that Works, Even for Introverts
Make the best of the connections and energetic networks you already have established by doing your work and helping all the people you have helped. They are already there, but you need to learn how to tap into them.
Module 3: Getting Yourself Known
Establish yourself as an expert in your particular unique niche. This niche is not something to chose on a whim, or based on what the market wants, but by connecting with your life missions -- what you came to do in this incarnation.
Participants will leave with:
A fine tuned "elevator speech."
A clear idea of their particular niche of practice.
A well identified "avatar" or ideal client.

(many people take years to get these right!)